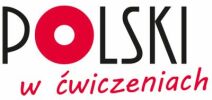 The Polish in exercises series consists of several books for students of higher level of language proficiency.
The series includes:
Polish orthography, Polish vocabulary and Viva Polonia - Wiedza o Polsce (available from 2021). They can be used both as a self-study material, and under the guidance of a teacher.
Each book includes a comprehensive set of exercises. They are designed as intensive language training with the use of a wide range of techniques and activities. The proposed thematic circles are in line with the Curricula for Teaching Polish as a Foreign Language and the Standards of Examination Requirements (Ministry of National Education, 2016).